Home
/
Colleges
/
College of Basic Sciences And Humanities
/
Department of Biological Sciences
/
Profile
---
Department of Biological Sciences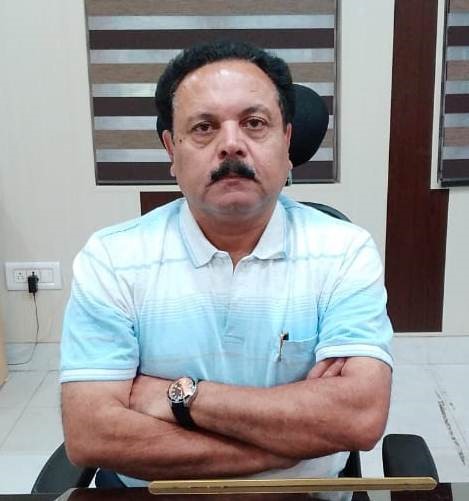 Dr. A.K. Sharma
| | |
| --- | --- |
| DESIGNATION: | Professor |
| QUALIFICATION: | Ph.D. |
| SPECIALISATION: | Rhizosphere Biology/Microbiology/Plant Pathology |
| EMAIL: | anilksharma_99[at]yahoo[dot]com |
| CONTACT NO.: | 7500241561, 9457166676 (M) |
---
Research Projects
Projects completed - 15
Project running - 5
Research Areas/ Areas of Interest
Biofertilizers and biopesticides, Microbial diversity, microalgae, fungal pigments
Selected Research Publications
Dinesh Chandra, Rashmi Srivastava, Glick, B.R. and A.K. Sharma (2017) Drought Tolerant Pseudomonas spp. Improves the Growth Performance of Finger Millet (Eleusine Coracana (L.) Gaertn.) under Non-stressed and Drought-stressed Conditions. Pedosphere (Accepted).


R. N. Pudake, Rashmi Srivastava, Prasun K. Mukherjee, and A. K. Sharma (2017) Heat stress-induced activation of a Trichoderma harzianum PIL superfamily gene. Gene Reports 6: 44–48.


Ishwar prakash Sharma and Anil Kumar Sharma (2017) Use of fly-ash (industrial residue) for improving alkaline soil status. International Journal of Soil Science (Accepted).


Ishwar Prakash Sharma and A.K. Sharma (2017) Co-inoculation of tomato with an arbuscular mycorrhizal fungus improves plant immunity and reduces root-knot nematode infection. Rhizosphere, 4, 25-28. https://doi.org/10.1016/j.rhisph.2017.05.008


A Visen, M. Bohra, P.N. Singh, P.C. Srivastava, S. Kumar, A.K. Sharma, B. Chakraborty (2017) Two Pseudomonad strains facilitate AMF mycorrhization of litchi (Litchi chinensis Sonn.) and improving phosphorus uptake. Rhizosphere, 3, 196-202.
Other Information
Chief Editor: Rhizosphere Biology series from Springer
International Collaboration: Switzerland, Germany, Finland, Philippines, Australia