Home
/
Colleges
/
College of Agriculture
/
Department of Soil Science
/
Profile
---
Department of Soil Science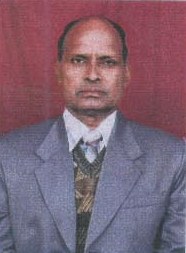 Dr. Hutendra Singh Kushwaha
| | |
| --- | --- |
| DESIGNATION: | Professor |
| QUALIFICATION: | Ph.D. (Soil Science) |
| SPECIALISATION: | Soil Physics, Irrigation Water Management |
| EMAIL: | kushwahahs[at]yahoo[dot]co[dot]in |
| CONTACT NO.: | 9758490169 (M) |
---
Research projects
P.I., AICRP on Irrigation Water Management funded by ICAR
Research areas/areas of interest
Soil Physics, Irrigation Water Management
Selected Research Publications
Dasila, B., Singh, V., Kushwaha, H.S., Srivastava, A. and Ram, S. 2016. Water use efficiency and yield of cowpea and nutrient loss in lysimeter experiment under varying water table depth and irrigation schedules and irrigation method. SAARC Journal of Agriculture 14(2): 46-55. 12/2016; 14(2):46-55. DOI:10.3329/sja.v14i2.31244


Mishra, G. and Kushwaha, H. S. 2016. Winter wheat yield and soil physical properties responses to different tillage and irrigation. European Journal of Biological Research 6 (1): 56-63.


Rai, H.K. and Kushwaha, H.S. 1997. Performance of upland rice (Oryza sativa) under different transplanting dates and soil water regimes in tarai conditions. Indian Journal of Agronomy 42(3):409-413.


Tripathi, R.P., Kushwaha, H.S. and Agarwal, A.1987. A simple non-weighing lysimeter installation with rain shelter. Agricultural and Forest Meteorology 41(3-4):275-288. DOI: 10.1016/0168-1923(87)90084-0


Tripathi, R. P., Kushwaha, H. S. and Mishra, R.K. 1986. Irrigation requirements of rice under shallow water table conditions. Agricultural Water Management 12(1-2):127-136. DOI: 10.1016/0378-3774(86)90011-9.