Home
/
Colleges
/
College of Agriculture
/
Department of Soil Science
/
Profile
---
Department of Soil Science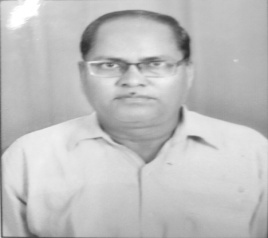 Dr. Shri Ram
| | |
| --- | --- |
| DESIGNATION: | Professor |
| QUALIFICATION: | M.Sc. Ag (Soil Science & Agricultural Chemistry), Ph.D. (Soil Science & Agricultural Chemistry) |
| SPECIALISATION: | Soil Fertility/Soil Chemistry |
| EMAIL: | shriram_189[at]yahoo[dot]co[dot]in |
| CONTACT NO.: | 9411324812 (M) |
---
Research projects
P.I., AICRP on Long Term Fertilizer Experiment
Research areas/areas of interest
Soil Fertility, fertilizers and nano fertilizers technology
Selected Research Publications
Ram, S., Singh,V. and Sirari, P. 2016. Effect of 41 years application of inorganic fertilizers and farm yard manure on crop yields, sustainable yield index and soil quality under rice-wheat cropping system on Mollisols of North India. Communications in Soil Science and Plant analysis 47(2):179–193.


Jangir,A., Singh, V., Srivastva, P.C., Ram,S. and Bhatnagar, A. 2015. Phosphorus and Zinc uptake and protein, lysine and tryptophane content in quality protein maize in relation to phosphorus and zinc fertilization in Mollisol. Ann. Agric. Res. New Series 36 (1): 50-57.


Singh, M., Ram, S., Wanjari, R.H. and Sharma, P. 2014. Balance and forms of potassium under rice-wheat system in a 40-year old Long Term experiment on Mollisols of Pantnagar. Journal of Indian Society of Soil Science 62(1):38-44.


Ram, S., Chauhan, R.P.S., Singh, B.B. and Singh, V.P. 2000. Integrated use of organic and fertilizer nitrogen in rice (Oryza sativa) under partially reclaimed sodic soil. Indian J. Agric. Sci. 70 (2): 114 – 116.