Home
/
Colleges
/
College of Agriculture
/
Department of Food Science & Technology
/
Profile
---
Department of Food Science & Technology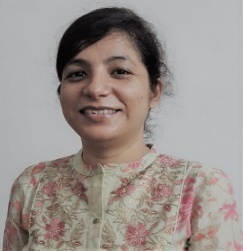 Dr. Simran Kaur Arora
| | |
| --- | --- |
| DESIGNATION: | Assistant Professor |
| QUALIFICATION: | Ph.D. (Dairy Technology) |
| SPECIALISATION: | Dairy Processing and Fortification |
| EMAIL: | sim_n[at]rediffmail[dot]com |
| CONTACT NO.: | 8884965321 |
---
Research Projects
As Health Food Manager with MASAN Consumer Corp. Ltd., HCMC, Vietnam, she has led and Coordinated Development of Calcium-Fortified Breakfast Cereals besides developing the work plan for Iron-Fortification of Fish Sauce and Soy Sauce.


As Institute Research Fellow at NDRI, Karnal, India, she has Standardized Dietary Fiber Formulations using Response Surface Methodology and further Optimized the Process for their incorporation into Yoghurt & Kheer. She has also undertaken Clinical Trials/Bioassaying on rats to determine True Protein Digestibility and Calcium Bioavailability.


As a Graduate Research cum Teaching Assistant at GBPUAT, Pantnagar, India, she has analyzed the effect of Microbial Rennet on the Physiochemical, Microbiological and Sensory attributes of Low fat Cheese/cheese-spread developed using accelerated ripening process. She had also successfully Optimized the process for Whey based Tomato Soup towards the utilization of Whey, a byproduct of Cheese/Paneer Industry.
Research Areas/Areas of Interest
Food Fortification, Milk and Milk Products Processing
Selected Research Publications
Arora, Simran Kaur and Patel, A.A. 2017. Effect of Fiber Blends, Total Solids, Heat Treatment, Whey Protein Concentrate and Stage of Sugar Incorporation on Dietary Fiber-Fortified Kheer. Journal of Food Science and Technology. 54(11):3512–3520. https://doi.org/10.1007/s13197-017-2808-0


Arora, Simran Kaur. 2017. Increase in Farmer's Income through Food Processing and Preservation. An oral presentation in National Symposium on 'Innovations in Horticulture: Production to Consumption' Sep 14-15, 2017, organized by Department of Vegetable Science and Horticulture, GBPUA&T, Pantnagar. PHM-O-12 p200.


Arora, Simran Kaur, Patel, A.A. Kumar, N. and Chauhan, O.P. 2016. Sensory Viscosity Rating and Flow Behaviour of Soluble Fibers. Journal of Food Science and Technology. 53(4): 2067-2076. doi:10.1007/s13197-016-2193-0


Arora, Simran Kaur and Patel, A.A. 2015. Development of Yoghurt "Rich-in" Dietary Fiber and its Physico-chemical Characterization. International Journal of Basic & Applied Agricultural Research (Formerly Pantnagar Journal of Research) 13 (2): 148-155. ISSN: 0972-8813


Arora, Simran Kaur, Patel, A.A. and Chauhan, O.P. 2015. Trends in Milk and Milk Products Fortification with Dietary Fiber: A Review. American Journal of Advanced Food Science and Technology. 3 (1) pp. 14-27. (ISSN: 2162-9722)
Other Information
Member of the Core Group, College of Agriculture. GBPUA&T, Pantnagar.
Officer In-charge Food Research Laboratory, Haldi, GBPUA&T, Pantnagar.
In-charge Kisan Mela Model for Food Science & Tech., College of Agril., GBPUA&T, Pantnagar (2016 & 2017). 
Participated in 21 days ICAR sponsored Summer School under Capacity Building Program on 'Farmers Empowerment and Entrepreneural Development in Food Technologies for Sustainable Agriculture' organized by Department of Food Science & Technology, Punjab Agriculture University, Ludhiana from 27.06.17 to 17.07.17.
Undertook 1 week IANCAS National Training Workshop on "Radiochemistry and Application of Radioisotopes" held at Radiations and Isotopic Tracers Lab., CBSH, GBPUAT, Pantnagar (Feb' 2016).
Undertook 7 days Training Programme on "Induction Programme for Newly Recruited Assistant Professor on Teaching Skills" in Education Teaching Cell, Communication Deptt., GBPUA&T, Pantnagar (Dec' 2015).
Undergone 4 months in-plant training at Model Dairy Plant & 2 months training in Experimental Dairy Plant, NDRI, Karnal.