Home
/
Colleges
/
College of Technology
/
Department of Post Harvest Process & Food Engineering
/
Profile
---
Department of Post Harvest Process & Food Engineering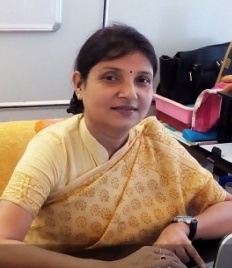 Dr. Anupama Singh
| | |
| --- | --- |
| DESIGNATION: | Professor |
| QUALIFICATION: | Ph.D. |
| SPECIALISATION: | Bio-residue utilization and value addition |
| EMAIL: | asingh3[at]gmail[dot]com |
| CONTACT NO.: | 9411160079 |
Selected Research Publications
Kate AE, Anupama Singh, Shahi NC, Pandey JP, Om Prakash and Singh TP. 2016. Impact of polar bio-solvent, particle size and soaking time on microwaave assisted extraction of edible oil from black soyabean. Journal of Food Measurement and Characterization. Vol. 11 272–280. DOI 10.1007/s11694-016-9394-0.


Shiv Shankar Verma, A. Singh, N. C. Shahi. 2014 Response surface methodology for selection of machine parameters for enhancing pearling efficiency of Finger millet dehuller-cum-pearler. International Journal of Science and Research. Vol. 3, Issue 10, Oct 2014 (IJSR) ISSN: 2319-7064.


A. Singh, I.Rana and Khan Chand .2014. Utilization of apple pomace as a source of dietary fibre in biscuits. International Agricultural Engineering Journal Vol. 23 (4) Sep 2014 .


A. Kulkarni, A. Singh, B.K Kumbhar and M. Sahgal. 2013. Optimization of pomace and banana peel fermentation for production of single cell oil. Journal of Focussing on Modern Food Industries. Vol 2 Issue 4 November 2013, pp 172-178).


Manoj Mahawara, Singh A., Kirti Jalgaonkar. 2012. Utility of apple pomace as a substrate for various products: A review. International Journal of Food and Bio Products Processing. FBPb 313, P1-9.