Department of Agronomy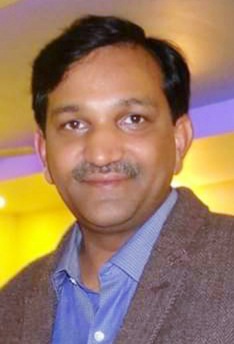 Dr. Sumit Chaturvedi
| | |
| --- | --- |
| DESIGNATION: | Professor |
| QUALIFICATION: | Ph.D. |
| SPECIALISATION: | Agronomy |
| EMAIL: | sumitagronomy78[at]gmail[dot]com |
| CONTACT NO.: | +91-9450757130, +91-7895479994 (M) |
Research Areas/Areas of Interest
AgriwasteBiochar
Climate Change vis a vis Conservation Agriculture
Nutrient Management
Cropping System Research
Integrated Farming System and Agroforestry
---
Research Projects
Designing control release fertilizer utilizing agri waste biochar, funded by NICRA, ICAR (2016-20)
FIST Programme of Department of Science & Technology (DST)(2018-23)
Morpho-physiological and Biochemical Characterization and Mitigation of Terminal Heat in Wheat, funded by Uttarakhand Council for Science and Technology, Dehradun (2012-14)
Participatory Technology Development and Green House Reduction for Sustainable Production of Organic and Fait Trade Basmati Rice in India by Inter-cooperation Social Development India (ICSD) and HELVETAS Swiss Inter-cooperation (2014-20)
Promotion of Rock Phosphate as an alternative chemical P-fertilizer in field and agroforestry system of Uttarakhand and western UP by FCI Aravalli Gypsum and Minerals India ltd., Jodhpur.
Studies and demonstration of gypsum efficacy in various agro climatic conditions of Uttarakhand by FCI Aravalli Gypsum and Minerals India ltd., Jodhpur
Selection of Low THC content lines of industrial Hemp (Cannabis species) by Uttarakhnad Bamboo & Fibre Development Board.
---
Selected Research Publications
Total Publications: >90
SV Singh, S Chaturvedi, VC Dhyani, G Kasivelu (2020) Pyrolysis temperature influences the characteristics of rice straw and husk biochar and sorption/desorption behaviour of their biourea composite. Bioresource Technology, 123674 doi: 10.1016/j.biortech.2020.123674.


S Chaturvedi, SV Singh, , VC Dhyani, G Kasivelu, R Vinu and S Mandal (2021) Characterization, Bioenergy Value and Thermal Stability of Biochars Derived from Diverse Agriculture and Forestry Lignocellulosic Wastes. Biomass Conversion and Biorefinery, BCAB-D-20-00960R1


GovindarajuKasivelu, S Tamilselvan, KannanMalaisamy, D Kathickeyan, DoronShkolnik, SumitChaturvedi (2020) Nano-micronutrients [γ-Fe2O3 (iron) and ZnO (zinc)]: Green preparation, characterization, agro-morphological characteristics and crop productivity studies in two crops (rice and maize) New J. Chem., 2020,44, 11373-11383 https://doi.org/10.1039/D0NJ02634D


DebaratiDatta, Subhash Chandra, Chaitanya Prasad Nath, GourangaKar, SouravGhosh, SumitChaturvedi, AmitBhatnagar, Gurvinder Singh, Veer Singhh (2022) Soil-plant water dynamics, yield, quality and profitability of spring sweet corn under variable irrigation scheduling, crop establishment and moisture conservation practices.Field Crops Research. 279 108450.


Arkaprava Roy, SumitChaturvedi, Shiv Vendra Singh, GovindarajuKasivelu, VC Dhyani, SuhitaPyne (2022) Preparation and evaluation of two enriched biochar-based fertilizers for nutrient release kinetics and agronomic effectiveness in direct-seeded rice. Biomass Conversion and Biorefinery, 2/28 1 12


K. VijaiAnand, M. Reshma, M. Kannan, S. MuthamilSelvan, SumitChaturvedi, Ahmed EsmailShalan, and K. Govindaraju (2020) Preparation and characterization of calcium oxide nanoparticles from marine molluscan shell waste as nutrient source for plant growth. Journal of Nanostructure in Chemistry https://doi.org/10.1007/s40097-020-00376-4


Arora, G., Chaturvedi, S., Kausal, R., Tewari, S.K. and Chaturvedi, O.P. 2014. Growth, Biomass, Carbon Stocks and Sequestration in Age Series PoplusdeldoidesPlantations. Turkish Journal of Agriculture and Forestry38 (4), 550-560.


Panwar P, Chauhan S, Kaushal R, Das DK, Ajit, Arora G, Chaturvedi OP, Jain, Amit Kumar; Chaturvedi, Sumit; Tewari, Salil 2017. Carbon sequestration potential of poplar-based agroforestry using the CO2FIX model in the Indo-Gangetic Region of India. Tropical Ecology. 58 (2), 1-9.


DilipItroutwarPrerna, KasiveluGovindaraju, SelvarajTamilselvan, MalaichamyKannan, RaguramanVasantharaja, SumitChaturvedi, DoronShkolnik (2021) Influence of nanoscale micro-nutrient α-Fe2O3 on seed germination, seedling growth, translocation, physiological effects and yield of rice (Oryza sativa) and maize (Zea mays). Plant Physiology and Biochemistry 162: 562 580.


Daniel PrakashKushwaha, Anil Kumar and SumitChaturvedi (2021) Determining the effectiveness of carbon-based stabilizers blends in arresting soil erosion and elevating properties of Mollisols soils of North Western Himalayas, Environmental Technology & Innovation, 23, 101768,ISSN 2352-1864.
---
Student Guided
M.Sc. – 15 students
Ph.D. – 03 students
---
Awards/Recognitions
Associate Fellow Indian Society of Agronomy (AISA), New Delhi
Dr P S Deshmukh Young Agronomist Award 2020
Faculty Excellence Award 2020, 2021 and 2022
Research Excellence Award 2017
Best Teacher Award 2013, 2018
Best Oral Presentation Award 2017