Department of Mathematics, Statistics and Computer Science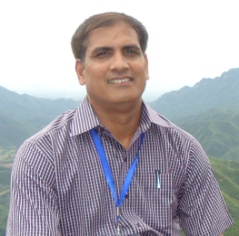 Dr. S.B. Singh
| | |
| --- | --- |
| DESIGNATION: | Professor |
| QUALIFICATION: | M.Sc., M.Phil., Ph.D. (Maths) |
| SPECIALISATION: | Reliability Theory, O.R. Numerical Analysis |
| EMAIL: | drsurajbsingh[at]yahoo[dot]com |
| CONTACT NO.: | 9412120731 (M) |
---
Research Projects
Reliability and Sensitivity Analysis of Multistate Complex Systems (year 2013-14)
Areas of Interest
Reliability Theory, O.R. Numerical Analysis
Selected Research Publications
Dhaundiyal, Alok, and Singh, S. B. (2017). "Study of Distributed Activation Energy Model using Different Probability Distribution Functions for the Isothermal Pyrolysis Problem". The Mining-Geology-Petroleum Engineering Bulletin, UDC: 550.8:552.1, (ISSN: 0353-4529.). 1-14.


Beena Nailwal & S. B. Singh (2017).  Reliability analysis of two dissimilar-cold standby redundant systems subject to inspection with preventive maintenance using copula. Mathematical Concepts and Applications in Mechanical Engineering and Mechatronics, IGI Global Publisher, Hershey, Pennsylvania, USA, pp. 201–221 (ISBN-13: 9781522516392).


Alok Dhaundiyal and S. B. Singh (2017). Parametric study of nth order distributed activation energy model for isothermal pyrolysis of forest waste using Gaussian distribution. Acta Technologica Agriculturae I/2017, pp. 23–28( ISSN 1338-5267).


Mangey, Ram, Singh, S. B. & Singh, V.V. (2013). "Stochastic Analysis of a Standby System with Waiting Repair Strategy". IEEE Transactions on Systems, Man and Cybernetics: Systems, Vol. 43(3), (ISSN: 1083-4427). 698-707.


Mangey, Ram, and Singh, S. B. (2010). "Analysis of a Complex System with Common Cause Failure and Two Types of Repair Facilities with Different Distributions in Failure". International Journal of Reliability and Safety, Vol.4 (4), (ISSN: 1479-389X). 381-392.
For More Information Click Here