Home
/
Colleges
/
College of Agriculture
/
Department of Genetics and Plant Breeding
/
Profile
---
Department of Genetics and Plant Breeding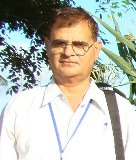 Dr. S.S. Verma
| | |
| --- | --- |
| DESIGNATION: | Professor |
| QUALIFICATION: | Ph.D. |
| SPECIALISATION: | Genetics and Plant Breeding |
| EMAIL: | sitarsinghverma[at]gmail[dot]com |
| CONTACT NO.: | 9412120691 |
---
Research Area/ Area of Interest
Maize breeding and seed production
Research Projects
AICRP-Maize(Code-124)
Selected Research Publications
Devi EL, Verma SS, Kumar S and Singh NK. 2016. Genetic variability studies for yield and contributing traits under two plant densities and molecular diversity analysis in maize (Zeamays L). Maydica, 60(37): 1-11.


Mishra, Priyanka and Verma, S.S, 2014. Estimation of components of variances for yield and its components in an open-pollinated maize composite, DQPMC-4(W). International Journal of Basis and Applied Agricultural Research. Vol. 12(1), January-April, 2014, pp 35-40.


Aditya, J.P., Verma, S.S., Bhartiya, A. and Kar, CS. 2010. Genetic analysis of important characters in quality protein maize composite at two plant densities. Crop Improvement 37 (1): 13-20


Ashaish Narayan and Verma, Sitar Singh. 2007. Phenotypic stability for yield and othercharacters in quality protein maize (Zea mays L.). Pantnagar Journal of Research, 5(2):77-81.


Agrawal, Parag; Verma, S. S. and Mishra, S. N. 2000. Phenotypic stability for different quantitative traits in maize hybrids. Indian Journal of Agricultural Research.34 (2): pp 107- 111.